By: Kei Komiyama
The Nissan Silvia (The Datsun Coupe 1600) was unveiled at the Tokyo motor show in 1964. Only 554 units were made, most of them destined for the Japan market, but around 50 was shipped to Australia and another 10 units reached worldwide customers. The introductory model was a hand-built coupe based on the Datsun Fairlady convertible, This beautiful cope was designed by "Kazuo Kimura" and "Fumio Yoshida" who worked as car designer at the time. It is said that German designer "Albrecht von Goertz" who designed BMW 507 was also engaged on the project.
This groundbreaking machine had a 96HP 1.6L inline four at the front, mated to a 4-speed manual gearbox. The Nissan R series engine was fueled by twin SU carbs, advanced for their time.
The selling price at the time was 1.2 million JPY, which is twice as higher as Nissan Sunny. (At that time, the average starting salary for university graduates was twenty-five thousand JPY) The cars were assembled by hand and total production only totaled 554 units when Nissan discontinued the model in 1968.

Japan's first highway patrol car
This first-generation Silvia (CSP311) was selected as a Highway patrol car by the Kanagawa prefectural Police. As the speed limit on the Keihin third way (which is between Tokyo and Yokohama) was 80km/h, it was decided that a car capable of performing well at high speeds was needed for law enforcement. The Silvia, with its top speed of 165km/h, fitted the bill. This was the first time in Japan that a high-grade sports car had been adopted to police patrol.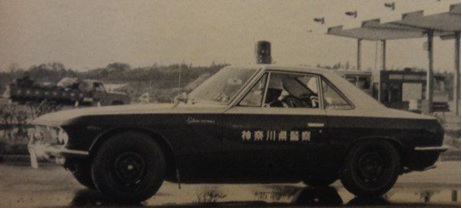 Market Value?
Nissan Silvia SCP311 Average 6,000,000 yen-10,000,000 JPY